It is my passion to assist others to find peace, joy and harmony in their world.
Read what others have said about healing sessions, workshops, retreats and tours!
♥️
"Thank you so much, you are truly an earth angel, such a beautiful soul. I've just finished my reiki master/teacher with Jayanti, and I can only say amazing things about the wonderful lady she is. Jayanti is so knowledgeable and passionate about the work she does, she is a beautiful lady and really helpful with everything.
My experience with her is so powerful, I have grown so much spiritually and mentally. She showed me how to connect with my heart more and how to fully accept what is, let go of what was and have faith in what will be. And she gave me courage to do so.
I can't thank you enough, light and blessings. "
Pia Markussen
♥️
"My experiences with Jayanti have had a powerful and yet softening effect on my world. Her intuitive ability in knowing what needs drawing to the surface to be understood then gently released is a gift nurtured graciously in sincere and loving hands. 
With each session Jayanti embraces fully each moment with full acceptance, giving her time and attention to skilfully guiding me back to that special place inside where only love lives. Within this divine place I am strong, loving, whole and so much lighter. Leaning this joyful skill is like being given a personal road map; each time my world feels woeful, I check in with myself and find my way back to love. Jayanti has given me this very special gift and my gratitude is strong and lasting."
Eileen Mansfield,  Mt Tamborine
♥️
"Dearest Jayanti, with so much gratitude and love for your beautiful presence and teachings for the Munay Ki rites."
Priscilla W Hole
♥️
"Eternally grateful, feeling blessed. You are a Goddess, thank you."
Dorina  G
♥️
"Reiki has been the answer I have been looking for, if only I was ready to ask the question. "What is out there?"
Now I know, Unconditional Love and with the spiritual guidance of Jayanti I am open, receptive, more loving and free.
Reiki offers more than just the opportunity to heal oneself and others, it connects. Everyone is susceptible to Reiki, and if everyone did Reiki I….at least, (in my opinion) this world would suddenly become a much better place."
Annette Edwards, Qld 
♥️
"I had the pleasure of visiting Jayanti in March 2010. I am a Firefighter & Reiki Master from the UK. Jayanti is one of the most enlightened people I have ever come face to face with. Her reading confirmed what I had felt for myself & what other mediums had predicted what my destiny will be.
Jayanti even went a step further and told how I was most likely realise my destiny and when certain things would be most likely to happen. I really enjoyed a great morning where I learned a few things about Reiki, spiritual enlightenment & a whole lot about myself. 
Thank you so much!"
Paul C, UK
♥️
"You wove together many threads and made a truth for me. You & Gabriel (Archangel) heralded a great change in me. This trip has set me on a new journey. Thank you."
Love and amazing experiences – Bali retreat
♥️ 
"Dear Jayanti, thank you for your presence. You are a wonderful teacher. Much love and appreciation."
Sylvia 
♥️
"Thank you Jayanti. Your spirit soars above us all. Thank you for your gift. AHO!"
Shaun  M.
♥️
"I continue to have many wonderful experiences and I would like to thank you for teaching me how to open up my heart to the universe, bring back my faith and rid the demons of my past."
Lynne Parkinson
♥️
"Dear Jayanti, thank you for such an amazing life changing experience. You have opened my eyes to a 'new me'. I will always be grateful."
Love always, Stephanie
♥️
"I loved the experience of the (Shamanic Journey) workshop and your calm and aware way of guiding us to connect with deeper parts of our own wisdom. I was able to find guidance around current issues and learned to understand shamanic symbolism and the strength that is available and how to access it. 
You created a protected and safe atmosphere. Thanks again and I hope I can participate again soon."
Love and light, Sylvia 
♥️
"Thank you for this amazing day 
I feel not only a powerful energy in me : ) I also feel a lot of love in me. 
Looking forward to tomorrow."
Love and blessings, Marion
♥️
"Dear Jayanti,  thank you for the several healing sessions I have had with you at the MBS Festivals over a number of years.
The results have meant that my body has felt healthier and my energy lifted. Always there has been a delightful calm and enduring peace.
(I have actually sent silent thanks to you after a number of months after my first session because I intuitively knew that what you did really helped my digestive tract and refined my energy to a lighter place.)
What or how to describe my experience of your work? These things come to mind:
*     The space was simple, clear & lovely.
*     Jayanti uses numerous skills, including pulling energy away (drawing out debris), chanting or silently opening as a healing channel, yet powerful.
*     I felt respected, relaxed & safe, yet aware that I was blessed by gentle healing.
*     Afterwards, Jayanti offered simple statements to help me move forward which I knew were true and relevant to me, then & for the particular healing.
*     Jayanti works with beautiful healing energy of a refined vibration."
Judi M, Brisbane
Shamanic Journey weekend
Reiki Master Teacher graduate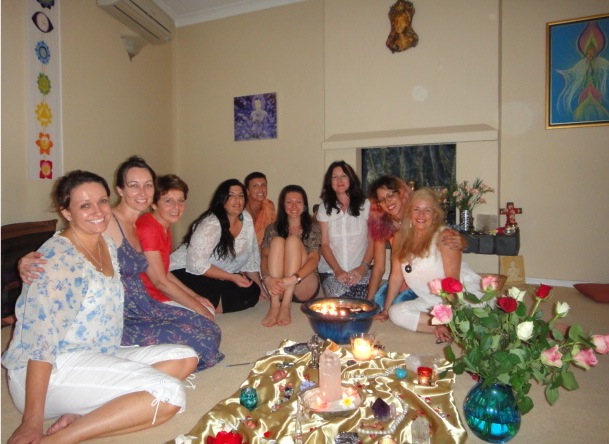 22.12.12 Birthing our New World
Chant Night
Balinese priestess preforming water cleansing ceremony
Meditation group – Xmas gathering
Reiki I training
Reiki healing – Level I
In the Journey (shamanic)
Munay Ki Rites
Wesak gathering
Reiki & Crystal Healing – crystal grid
Munay Ki training – Sylvia giving Earthkeeper Rite to Shaun
Dance of the Flames
Jayanti